Energy Saving Films/Heat Insulating Films General Brief Introduction
Heat Insulating Films General Brief Introduction
Date:2014-04-24
Related Knowledge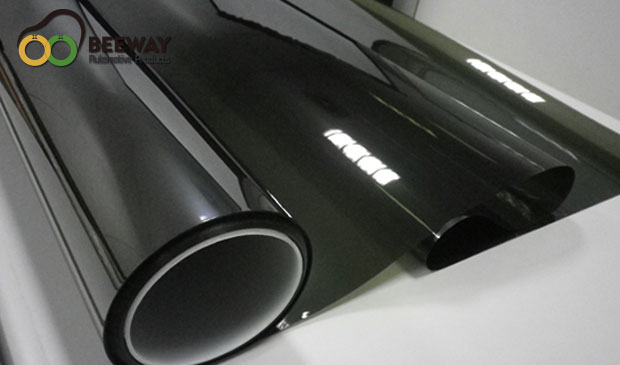 Window Film / energy film use multiple PET film as the base material. Surface Coating with Functional Resins. To achieve the different effects and abilities such as blocking the infrared & ultraviolet (Anti UV&IR) and scratch-resistant ,use of these multi-level functional coating from sticking to the glass surface , such as automotive front face , back face , side face and Windows of Home ...etc. Resist the ultraviolet and infrared, to prevent the impact of the human body and furniture , or auto Interior of aging and damaged. Apply on Automobile & Construction Industry ( Curtain glass ) …etc.
Insulation / energy saving membrane principle :
Sunlight composition of approximately 55% of infrared + 45% visible + 3% UV. Solar spectrum, near-infrared spectroscopy as the main source of heat in the near-infrared think that the human body is easy to feel the hot band. A UV shot to the surface of the Earth can not see the light, the longer wavelength ultraviolet light, the stronger the ability to penetrate. UV rays are the strongest electromagnetic radiation at a wavelength of 280-380 (nm), but great harm to the human body, excessive ultraviolet radiation can cause accelerated aging and cracking of instrument panels and other car interior parts.
People in car or house feel the heat source for the thermal conductivity of sunlight and heat transfer diffusivity of Glass = radiation thermal conductivity in order to reach insulation purposes , the Energy-saving insulation film required barrier these two UV & infrared IR sunshine penetrated.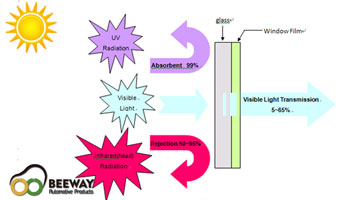 Schematic characteristics
Window Film Module :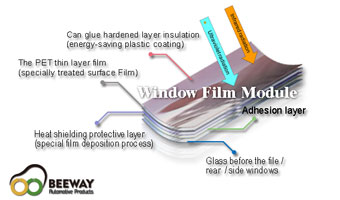 Window Film Module Introduction
Applications:
Automotive insulation / energy film
Building insulation / energy saving film
Explosion protection type energy / insulation film